On September 10th 2019
Pedius
and newest partner, CSL, introduced the app to Hong Kong, marking the first Asian city to utilize Pedius technology. The kickoff launch event to celebrate was graciously hosted by newest partners CSL and DBS Bank. CSL now marks the
FIRST accessible call center
available in Hong Kong for Pedius users to call. These first steps towards breaking communication barriers in Hong Kong are most certainly not intended to be the last.
In China, there are
21 million individuals
that are Deaf or Hard of Hearing. In the city of HK alone,155,200 individuals contribute to this number. As many other countries, many of these individuals do not communicate using sign language and therefore rely on general communication tools such as a hearing individual does.
Why Hong Kong? Its part of our mission to create the possibility of accessibility and inclusion for the Deaf and Hard of Hearing communities worldwide.
The Event and Newest Partners
CSL
is the leading local mobile telecommunications operator in HK, and now the first to launch a mobile app service (Pedius). CSL customers can use Pedius for free until December 31, 2019 and any local mobile data charges incurred by the Pedius App will be waived. The new partnering between Pedius and CSL sets a new service milestone in the Asian market, specifically Hong Kong, by providing a new tool for the Deaf and Hard of Hearing communities to access various customer services while enjoying the simplicity of a telephone.
Pedius also gained huge support from
DBS Bank
in Hong Kong. DBS is a leading financial services group in Asia, and the HK branch is the 7th largest bank in the city.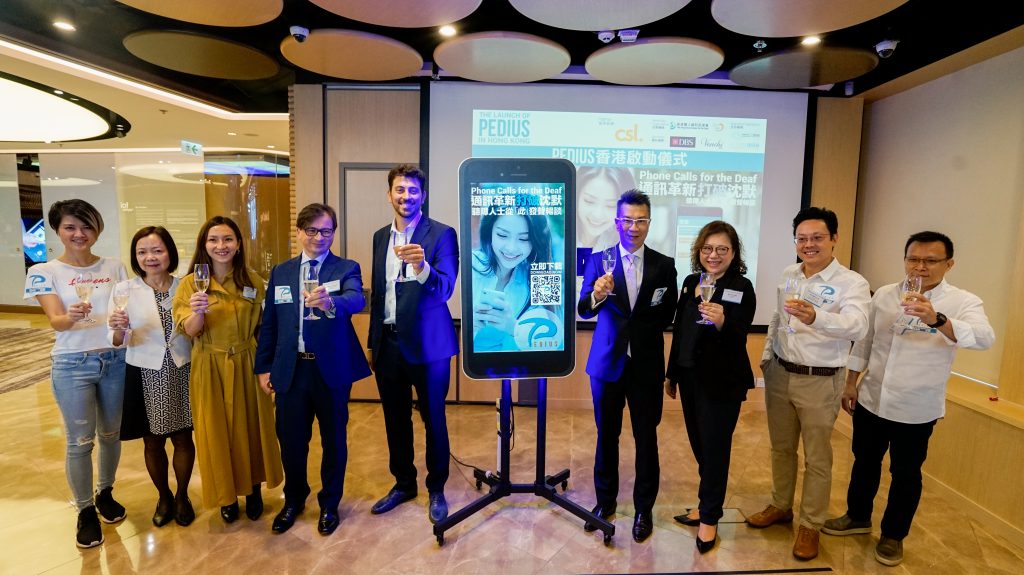 To celebrate the launch of Pedius in HK, Lorenzo Di Ciaccio, CEO, and Mr. Bruce Lam, Chief Marketing Officer of CSL Mobile and CEO of The Club, were invited as the officiating guests to the kickoff ceremony. At the event, representatives from Pedius and CSL conducted a demonstration based on a real-life scenario to showcase the Pedius operating system. The deaf representative, Ms. Connie Chan, a deaf user of Pedius App, also shared her user experience of using Pedius App, saying that it is an innovative and life-changing tool.
Together, CSL and DBS generously donated 160 licenses to use the application, including a data plan, to the
Hong Kong Society for the Deaf
and
Silence Association
. We look forward to the next steps as we expand Pedius services throughout Hong Kong and hope this initial launch will set a precedent for the future of communication and accessibility.
Subscribe to the Newsletter: